How would you like to participate in this campaign?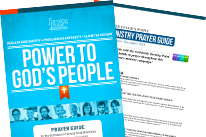 Download the Prayer Guide

and begin to pray with us each week
Thank you! Your download should begin automatically
Please enter a valid email address
It's not news . . .
that trouble can appear any day of the week. We may have a problem on Tuesday, or a heartbreak may happen on Thursday.
At Turning Point, we always want to be there for you in your time of need. We are grateful for the many times people have sent messages saying, I was struggling, and Turning Point was there at exactly the right moment.
The truth is, people are hurting seven days a week, not just on Sundays. Knowing this, we have prayed for many years that God would somehow open a door for us to put Turning Point on television every day of the week . . . to meet people where they are, in their time of need, whenever their need occurs.
Now, finally, we thank the Lord we can bring you this report: He has opened the door. Turning Point Television is still airing on weekends but is ALSO broadcasting on weekdays!
This is a thrilling, unprecedented, God-given breakthrough, but we need your help to lay hold of this opportunity and to keep us on daily television.
Please understand: We would have preferred to ask for prayer and financial support before committing to air daily programs, but the opportunity came up too suddenly. Trinity Broadcasting Network (TBN), the largest Christian network in the world, suddenly had an opening, and invited us to take advantage of it. The only catch: We had to move immediately—and start broadcasting in December.
Like so many steps in the history of our ministry, this would have to be a step of faith. So—trusting God—believing that He would speak to the hearts of His people in the days to come—we said "yes."
It is clear to us that God ordained this advance. Looking back over the years, from the time we launched Turning Point Television in the year 2000, we can see that our weekend broadcasts were just the beginning. What started small—on just one network and a few small individual stations—has grown into an international outreach covering the United States, Canada, Australia, New Zealand, Europe, the Middle East, Russia, and beyond.
Taking that first step by faith paved the way for everything God has done through Turning Point Television since then!
With the stress of today's world, the pressures of today's culture, the overwhelming noise of the daily news cycle, people need help just to get through the day. Now, by God's grace, and with your strong support, Turning Point can be there . . . for you, and for everyone.
You will now have an opportunity to gain strength and inspiration from solid, practical, biblical teaching through the new daytime edition of Turning Point Television every day of the week. Our daily Turning Point Television broadcasts will also be a blessing to people who work on weekends and have never had the opportunity to tune in to our ministry programs. This weekday outreach will reach a very large audience of people in need!
Already, since our daytime launch began, we have featured unique teaching on:
Ten Questions Christians Are Asking—answering ten hard questions all of us ask
A Life Beyond Amazing—helping viewers to claim the vibrant and victorious life God has mapped out for us
The God You May Not Know—presenting the true God of the Bible, whose personality and promise we can count on each day
And this month, What Are You Afraid Of?—a practical look at fear, something many of us are feeling with the current climate of society.
In the next couple months, we will be rolling out more digital ministry resources through our online channels based on our additional daily TV content. More people will be able to access more Bible Strong teaching in more ways . . . all thanks to this new daytime Turning Point Television adventure!
In one way, we did not see this coming. God's timing surprised us! Yet at the same time, this is a moment we have been praying for . . . for years. To sustain this "unexpected" outreach—to gain momentum for this critically important ministry opportunity—we need your help. Would you please prayerfully consider giving an extra-generous gift of support to Turning Point today?
Be a part of what God wants to do through Turning Point Television—potentially in millions more lives—no longer only on weekends, but every day. We can't wait to see what God does through us together!