Today's Devotional:
Sep. 21
Clearly God in Christ
When we study the person of Christ, we clearly see God. According to the Bible, there's a mysterious invisibility to God the Father, but Jesus is God the Son—the tangible revelation of God to us. This theme runs through John's Gospel like a golden thread. John 1:14 says, "And the Word became flesh and dwelt among us, and we beheld His glory, the glory as of the only begotten of the Father." Verse 18 says, "No one has seen God at any time. The only begotten Son, who is in the bosom of the Father, He has declared Him."

Send me Dr. Jeremiah's Devotionals
Sign Me Up »
Please enter a valid email address
You've been successfully signed up!
Available for a Limited Time
The Exclusive 2020 Turning Point Calendar
This stunningly beautiful 14-month calendar is ready for you to display and use proudly in your home or workplace.
It features:
Inspiring Scriptures that will focus your thoughts on God's attributes each month
Magnificent images of God's creation
Notation of holidays and other special days
A daily plan to read through the Bible in a year
Holiday planning guides for Thanksgiving and Christmas 2019
Space to jot down appointments, birthdays, or special events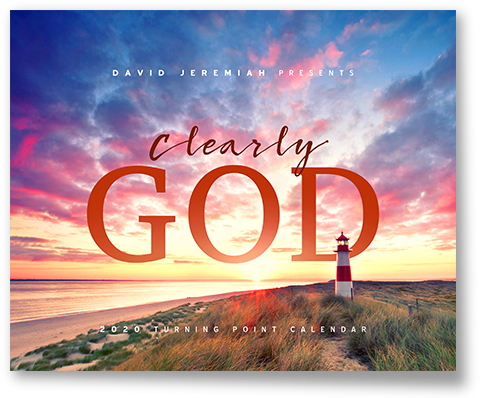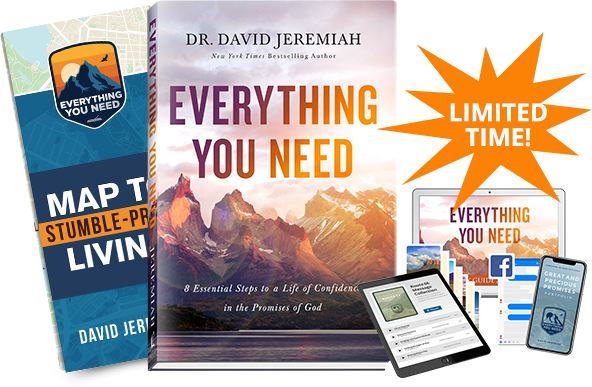 Offer Expires 9/30
Special Presale Opportunity
Pressure may be the biggest issue we're up against today. Family commitments, time constraints, financial crunches, church and community committees all create tension. As Christians, we're carrying unprecedented burdens. But God never intended for you to stumble your way through the course of each day and certainly not journey unprepared into your future.
Isn't it about time you became sure-footed in your faith?
In his new book, David Jeremiah challenges you to unpack all the tools God has given you to live with confidence: diligence, virtue, knowledge, self-control, perseverance, godliness, brotherly kindness, and love. By using the equipment God offers, we can live confidently in the knowledge that we will never stumble—and trek forward in the energizing power of God's great and precious promises.
When you preorder through Turning Point this month, you'll receive exclusive access to the Field Guide—a bundle of digital resources—as well as Dr. Jeremiah's Map to Stumble-Proof Living.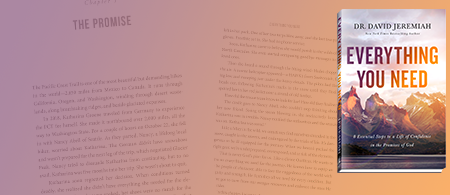 Inside Everything You Need
Take a peek!
Field Notes digital resources
Limited-time presale offer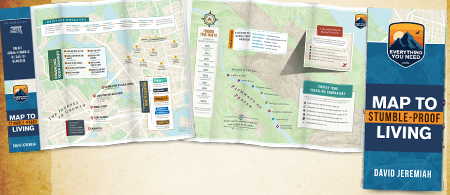 FREE resource with the new book or study set
Map to Stumble-Proof Living
Join us Live!
Dynamic worship. Edifying fellowship. Life-changing teaching.
Life is an adventure and there are often unknowns. Obstacles can become stumbling blocks along the journey, but God has provided tools that have the power to ensure a purposeful life and a sure-footed faith. At each stop on the Everything You Need Tour, Dr. David Jeremiah will share incredible insights into an often overlooked passage of Scripture from the book of Second Peter.
You won't want to miss the opportunity to hear these transformational messages from God's Word.
October 1: Orlando, FL | October 3: Macon, GA | October 6: Charlotte, NC | October 8: Columbus, OH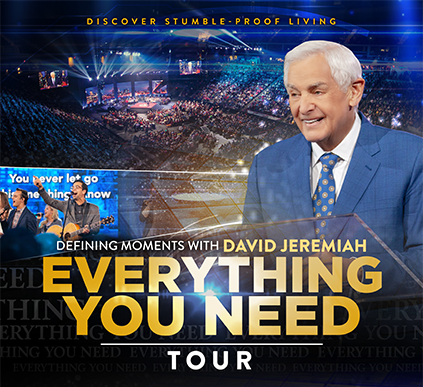 Embark on a Faith Adventure
Stumble-Proof Living Online Challenge
Are you ready to grow spiritually? Accept the challenge and unpack all that God has given you. Join us as we explore the concepts found in 2 Peter 1, develop new habits, and pray through the steps that lead to a life of confidence in the promises of God. Not only will you grow spiritually, but you will also earn badges and prizes along the way!
September 22 - 28
Preparing for the Launch of Turning Point Radio Series Everything You Need
Will you stand with Turning Point in focused prayer between now and Christmas? Let's pray and work and believe together, asking God to move in us and through us as never before.
Would you join with us in prayer this week as we ask God to prepare the hearts of millions who will hear this teaching from 2 Peter in October? We are asking God's blessings on Turning Point's radio outreach as we air each of the 22 programs (a total of 7,000 times in the USA alone, in addition to many thousands around the world) during the month of October. Our prayer is that souls will be saved, dedicated, and rededicated to the Lord!
Pray With Us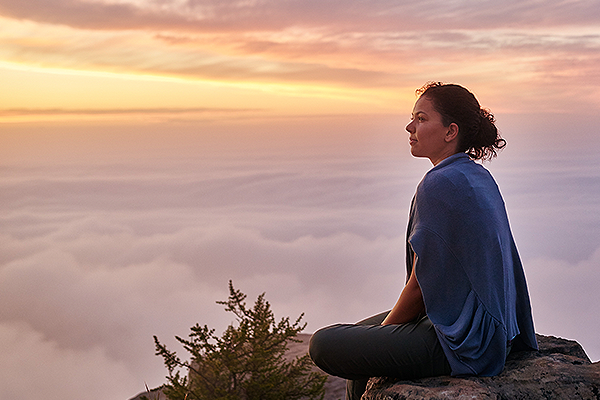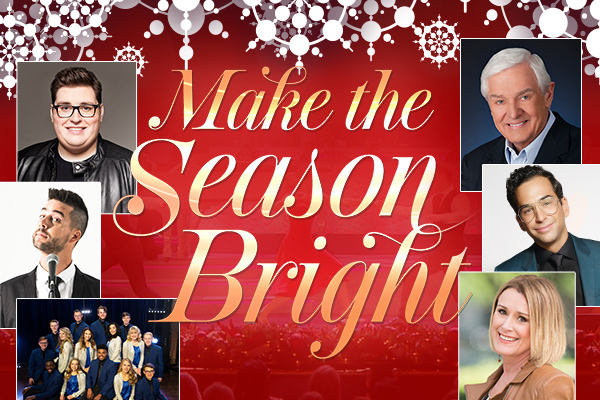 Tickets are on sale now!
Make the Season Bright: Christmas on Broadway
There's nothing like Christmas in the Big Apple. Tinseled trim, glittering windows, and the sparkling city skyline light up the season, and once again Turning Point is bringing the Light of the World to the celebration! Join David Jeremiah, Jordan Smith, the Voices of Lee, Michael Sanchez and the Big Band Sounds of Christmas, Sheila Walsh, and comedian John Crist as they appear onstage at the Beacon Theatre on Thursday, December 12. This festive, unforgettable event will sell out quickly, so secure your tickets today.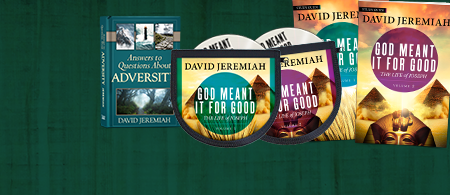 Be inspired and informed by the life of Joseph
God Meant It for Good Study Set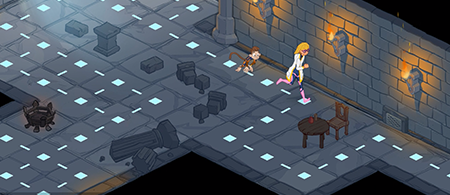 Free mobile game for the kids!
Airship Genesis: Pathway to Jesus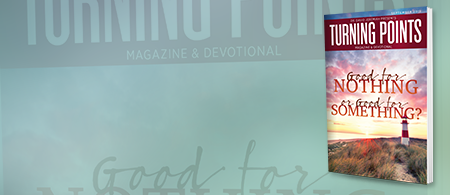 Turning Points Magazine & Devotional
Request a Free Subscription
Now Available For
i

OS Users
The All New Turning Point App
Turning Point's flagship app has been redesigned for a more customized and streamlined experience!
Key Benefits:
See an at-a-glance overview of everything happening at Turning Point through the new "Today" screen.
Download Dr. Jeremiah's messages for offline viewing and listening (no data usage!).
Read daily devotionals and their correlating Scripture directly from the new app.
Catch up on ministry news and Bible study articles.
And Bible Strong Partners have access to an expanded assortment of digital resources—from wherever they may be.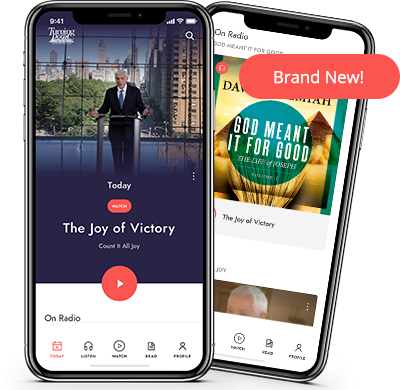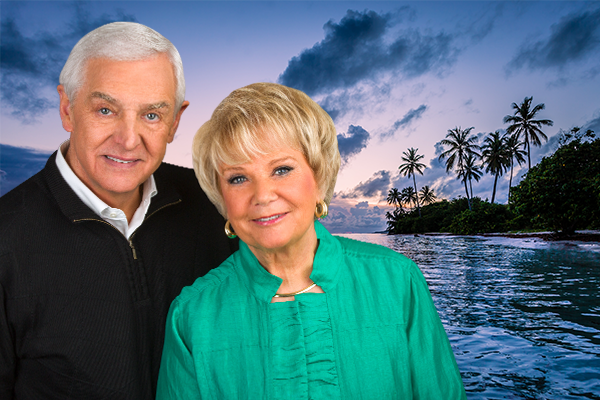 Come Celebrate with Us
Experience the Glory of God in the Wonder of the Caribbean
Very soon, it will be time to ring in another New Year. Why not begin 2020 with a renewed sense of purpose? Start the year with rejuvenation, refreshment, and resolve by joining David and Donna Jeremiah on a conference cruise in the Caribbean.
Yes, you will have the opportunity to take in the Caribbean's colorful cities and ancient ruins, stopping at five destinations along the way, but you'll also spend time studying God's Word and seeking His will for your life. Even now, Dr. Jeremiah is prayerfully preparing messages to share with you. Michael Sanchez, the Martins, and Uriel Vega will also be on hand to lead you into the Lord's presence through worship.
The ship departs from Fort Lauderdale, Florida, on December 29, 2019. Don't miss the opportunity to enjoy this phenomenal travel experience and position yourself for all that 2020 holds!
From Dr. David Jeremiah
Tour the Land of the Bible with Dr. David Jeremiah
After leading several trips to the land of the Bible, Israel has become one of my favorite places on earth. Donna and I are excited to return for another Turning Point Israel tour, March 19-29, 2019.
We'll visit historical places like:
Gethsemane
The Sea of Galilee
The Mount of Beatitudes
And more
I'll guide you through these sacred sites and others, teaching God's Word as we retrace our Savior's steps. Imagine seeing the same landscape Jesus saw, being baptized in the Jordan River, or singing at the Garden Tomb in Jerusalem.
These life experiences will change you forever.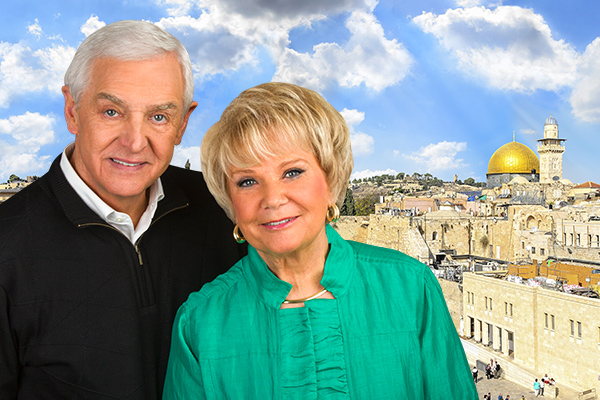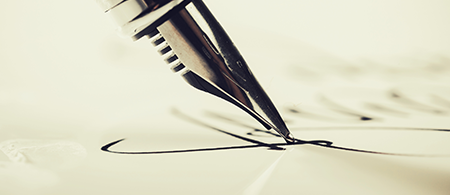 We want to hear from you
How is Turning Point making a difference in your life?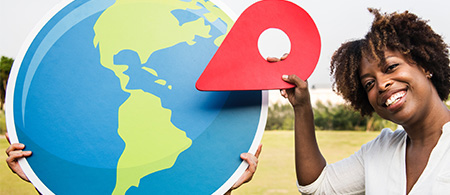 Station Locator
Find a TV or radio station near you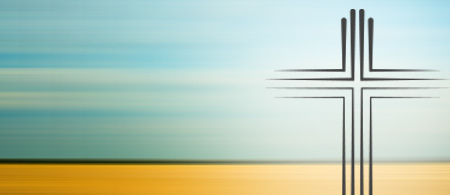 Do you know God ... really?
Become a Christian today
THANK YOU FOR YOUR SUPPORT OF OUR GOD-GIVEN MISSION:
Delivering the unchanging Word of God to an ever-changing world.