How would you like to participate in this campaign?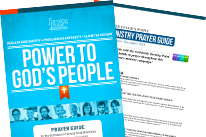 Download the Prayer Guide

and begin to pray with us each week
Thank you! Your download should begin automatically
Please enter a valid email address
The challenge before us:
Downloading the unchanging Word of God to an ever-changing world!
Jesus took the Gospel to some of the most unlikely places, like fishing boats, weddings, wells, and sycamore trees. And He took it to some of the most unlikely people—tax collectors, lepers … outcasts. By going wherever the people are, we follow His example; by taking the Good News to the ends of the earth, we obey His command.
We live in a world of digital content, digital programming, digital delivery. In the past 10 years, use of mobile devices among our audience has increased from 2% to 73%! It's time to take solid biblical teaching directly to the smartphones of this world!
Smartphones have replaced...
Alarm clocks
Banks
Books
Calendars
Cameras
Cassette tapes
CDs
Clocks
Cookbooks
Dictionaries
Landline phones
Libraries
Magazines
Mail
Maps
Newspapers
Radio
Stereos
Television
Translators
Video Rentals
And more!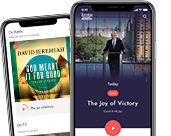 Digital technology travels where we cannot—across international borders, through political turmoil, behind social barriers, and inside closed countries.
In recent years, our biblical content for radio and television has been suppressed more often in more and more countries. As global censorship rises, Turning Point is working to develop strategies that circumvent restrictions by taking solid biblical teaching directly to individuals, via their devices. Audiences are increasingly engaging with Turning Point's ministry through mobile phones, and mobile apps are oftentimes the only way we can express the full counsel of God to people living under oppressive regimes.
By God's grace, our Turning Point app has been downloaded more than a million times—but it utilizes 10-year-old technology! System upgrades are urgently needed.
Recognizing the importance of enhanced digital strategies, we have laid the groundwork for digital upgrades that will quickly pave the way for dramatically expanding our outreach through nine foreign languages. Ultimately, these upgrades position us to offer simple, immediate access to Turning Point's ministry content—anytime, anywhere, and to anyone.
Our upgraded apps will reach adults—and our Airship Genesis mobile game will reach youth and children—around the globe.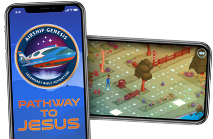 The Genesis Exploration Squad is lost in a Pathway to the past—you've got to figure out where they are, fix the Airship Genesis, and reunite the squad! The Airship Genesis: Pathway to Jesus mobile game for kids is now available in both the Apple and Google app stores!
A Bold Step Into the FUTURE!
We invested in these upgrades knowing we could count on you to take this bold step into the future with us. Your support helps Turning Point finance Gospel-advancing technology around the world. Please give generously today!